Pentair Intelliflo Pool Pumps..
Good Pumps, Poor Warranty, UNrepairable when they fail. Not a good buy.
By Joe Mehaffey
March 2009
(Updated August 2010)
Note: I have replaced this pump at my home with a Jandy Stealth Pump. See HERE for a comparison.

As always, I am trying to improve energy efficiency at my home. When my original pool pump failed after 12 years of service, I looked around for the highest quality and most energy efficient model available.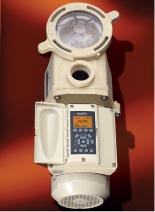 Image shows latest Intelliflo 4x160 model
The
Pentair Intelliflo 4x160 model seemed to fit the bill. It was much more energy efficient than my old pump. It featured pump speed variable from about 20% to full speed to allow lower speed during winter freeze protect times and for other times when slow water circulation was the goal and higher flow rates are not needed.

The Intelliflo pump was a bit pricey. It came in at $850 whereas a regular model two speed 2-inch pool pump could be had for about 1/3 that amount. But I decided that since I could break even in about 6 years of running from the electricity saved, it was an OK deal. Pentair advertised that the pump could be remotely controlled and so I also looked forward to hooking the unit up to my building automation system so I could control the pump ON/OFF and speed remotely.

I installed the new Intelliflo pump and it nominally worked well. It has four manually selectable speeds actuated by push buttons that can be easily set to four different pump speed setpoints. I set up to monitor pump flow rate indirectly via a pump outlet pressure sensor to my building automation system. But when I looked for how to hook my automation system to the pump for motor speed control, I found that to be problematical. While my automation system has a) analog output for speed control, b) RS422 output for speed control and c) Pulse width output for speed control, I found that was not enough. Pentair's design was a RS422 link all right, but the protocol was proprietary and they were not giving it out! OK.. So I decided I could live with OFF/ON control and change the pump speed manually as needed. I did find out that Pentair has a $350 "adapter" that would allow my analog signal to work with their motor. That was too pricey for my appetite. I went with the manual speed control and simply turning power ON and OFF as needed.

This all worked just fine for 18 months. Then in January 2009, the temperature at my home went down to about 8F. I got an alarm from my pressure sensor that my pool pump had failed and so I had to go out and look at it. It was COLD! But it had to be looked into to keep the pipes from freezing. I found the Intelliflo pump controller in "Alarm" and the pump shut down. I tried a Reset and Restart. None of the four speed control buttons would work. Finally, I pressed the manual speed UP/Down rocker switch and the motor started to run. So I was OK for now. I set the pressure for about 8psi and went back inside. As the temperature rose, so did the pump pressure. By the time the temperature got up to 40F, the pump was running near 80% speed and the pressure was about 22psi instead of the 8psi I had set it earlier. The pump "Drive Control" had failed in a way that causes the pump speed to be temperature sensitive. (Note: I have no idea if the failure was caused by the cold or not. However, this was the lowest temperature the pump had encountered since it was installed.)

I found that the MOTOR itself (including the pulse width ECM motor speed control) was working fine. But the "Pentair Intelliflo Motor Driver" circuit board was not operating properly. I telephoned Pentair Tech Support and asked how to order a replacement "Motor Driver " module for my pump. "Sorry", I was told. "That pump has no replaceable ELECTRICAL components. You will have to replace the entire pump." WHAT!? says I. Do you mean that I have a $850 pump assembly that RUNS and PUMPS OK, but has a failed replaceable circuit board and yet there are NO replacement parts available? "Yes", I was told, "The pump is made in Denmark and we have no replacement ELECTRICAL parts or bearings for any Intelliflo pump."

I have made other inquiries and it is all so. If your $850 Intelliflo Pump fails due to an electrical or electronic or bearing problem on day 367 after purchase (considering the one year warranty), then the entire pump unit must be replaced and you have to pay the full price for the replacement. Also, Pentair does not accept any Intelliflo pump for any sort of electrical repair.

With the above information in mind, I can only recommend that potential pump buyers STAY AWAY from Pentair Intelliflo pumps. The warranty is exceptionally short for such an expensive pump and, from my own experience, the reliability of the pump system is not good enough to justify the expensive original cost. In my long experience with pumps and electronic equipment of many kinds, this is the FIRST expensive consumer product for which NO KIND OF FACTORY REPAIR OR ANY ELECTRICAL REPAIR PARTS is available in case of an electrical malfunction. Had I known this last fact alone, it would have been a red flag against any Pentair Intelliflo pump purchase.

I have recently learned that there ARE some pump parts available, just no ELECTRICAL or ELECTRONIC parts/CIRCUIT BOARDS or BEARINGS for Intelliflow pumps. Pentair furnished the following parts list for pump parts which ARE available for Intelliflo pumps.

Update: I have received information from a number of other Pentair customers on the Intelliflo Pumps. Most are in the same quandry that I found myself in. When the motor controller fails out of the one year warranty, there is no alternative but to buy another complete pump system as the motor controller still is not available as a spare part. I heard that Jandy has a similar product where all spare parts ARE available. I phoned Jandy to ask about the price of the motor control for their high efficiency pump and the price given was about $400. I have no personal experience with the Jandy variable speed pump, but I do like the Jandy Stealth High Efficiency Pump I bought to replace the Pentair Intelliflo that failed.

Anybody need an Intelliflo 4-160 pump in excellent condition except that the Brushless DC sensorless Motor Controller has failed? :) My advice still is to stay away from Pentair Intelliflo pumps until a) their reliability improves, b) they offer all spare parts at reasonable prices and c) they become a company concerned about customer service. Selling an expensive pump without provision of spares for failure prone and essential parts seems to me to be a totally unreasonable way for a company to perform!

---
Intelliflo pump available parts listing