Overview


The Garmin nuvi 3790 LMT is currently the top of the line automotive unit from Garmin. It is a full feature navigator and the LMT denotes that included in the package is lifetime map and traffic updates. It was originally listed for $499, but as of February 2011, has gone down to $399. The 3700 series includes the 3790 with cell phone bluetooth calling, along with voice activation and the 3750, which does not include the mapping or traffic extras for $290. Garmin is very proud of its ultra thin size (9mm) and glass like touchscreen, which looks as good to me as any previous nuvi unit. The package includes the unit, a suction cup mount, which has a built in speaker and a vehicle power cable.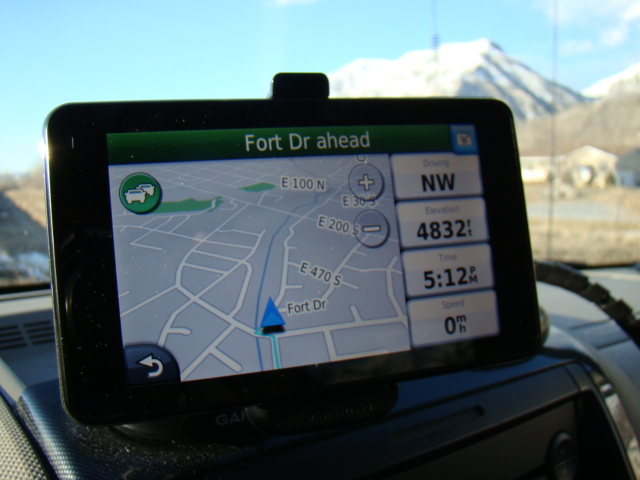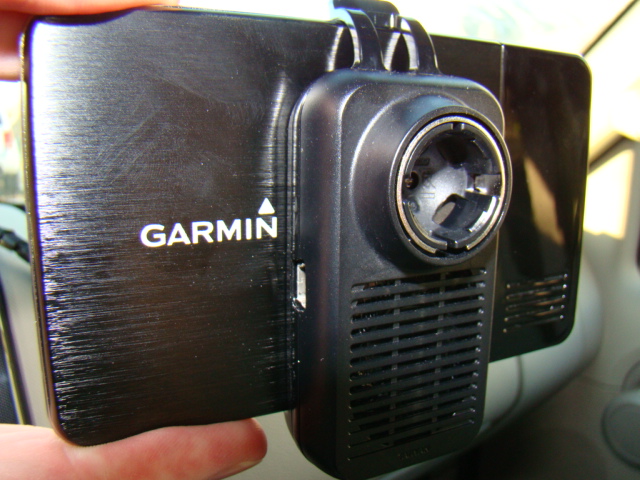 Nuvi 3790 in an optional dashboard mount 3790 in quick release mount. Note external speaker and internal speaker on far right.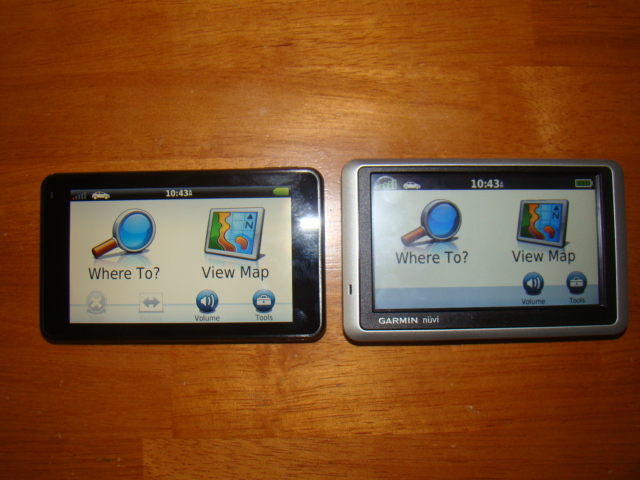 nuvi 3790 on left with nuvi 1350 model on right. Both have the same screen size, but the 3790 is just 9 mm thick.



I bought a 3790 LMT, after my venerable StreetPilot 2820 died. The 2820 had served me so well over the past four and a half years, that I never choose to upgrade to a nuvi. I have used and tested several other nuvis during this time and when Garmin wanted $170 to repair the 2820 since it was out of warranty, I decided to go for the latest and greatest. I have been impressed with several features of the 3790, but disappointed in others, especially with what I believe is a lack of options and features that have been in other nuvi units and some now appearing in the brand new, lower cost 2X00 series. (custom avoidances, speed limit corrections, more flexibility in data fields) Overall the nuvi 3790LMT is a good unit, but the $400 price tag may be hard to justify, when other new Garmin nuvi units such as the 1300 and 1400 series or the new 2300 series, do almost the same thing and can be purchased for much less. That being said, the 3790 does have a few new bells and whistles I will focus on.



Size


First, you can't complain about the size of the unit, especially if you are interested in pedestrian use in a big city. It is smaller and lighter than my Droid phone and automatically positions for vertical use for walking or horizontal for vehicle use. The internal speaker is fine for pedestrian use, but the quick release mount speaker, with its built in speaker, sounds very good. There is a microSD slot if you need additional memory, but the 7GB internal drive has plenty of extra room, nearly 3GB available. You can see how the 3790 was designed, by
watching an interesting short Garmin produced video here.

myTrends
This is a feature new to the 3700 series. According to G

armin:
"With myTrends, when you save your regular destinations in your "Favorites," your nüvi 3790 will, over time, begin to figure out where you're going even without your telling it! It provides time of arrival and relevant traffic information. So whether you're driving to and from work or a regularly scheduled weekly event, your nüvi 3790T will help you get there on time."
From my experience, it will predict the time of day when you go home or to work and provide a couple of route options for you. These are screen shots I have seen recently, which gives me the option of how I want to go home: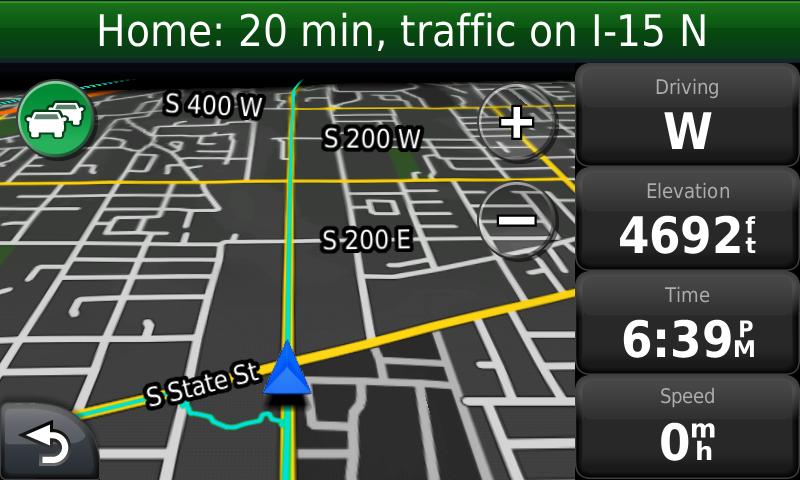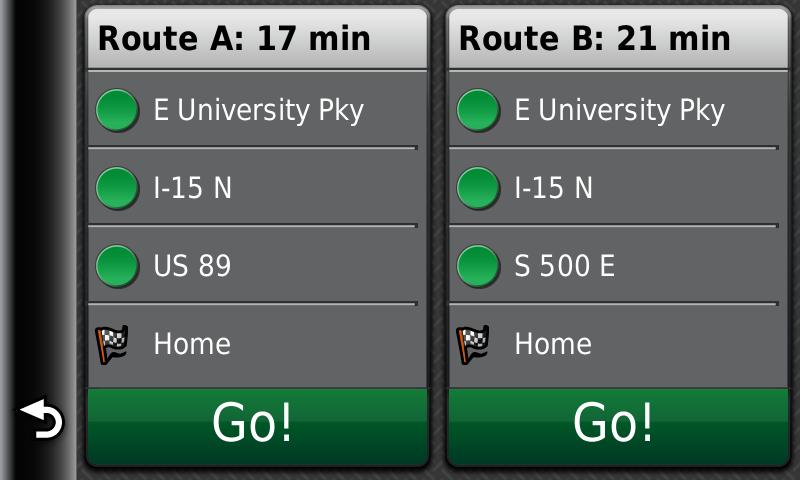 trafficTrends


This is a feature that is included with the map data. It seems to calculate a historical speed for the road and use that in factoring the route. I have noticed it adds about four minutes to my typical 15 minute commute. You can switch this feature off in the map settings and it will calculate a time I have seen in previous units. I do find it helpful to have this factored in the route, because I know it's a good average of when I will get there. This feature only works on freeways and major highways as near as I can see. If you do have this feature enabled, Garmin will anonymously upload your tracklog data, to help in calculating these traffic trends. It will collect the information, when you connect your unit to your myGarmin account. You can restrict this data from being uploaded, by adjusting settings in your myGarmin account. I noticed as I recently updated my maps, the trafficTrends data also went from version 3.75 to 4.00, so it appears this data is being improved.

Here's Garmin's take on trafficTrends:
With trafficTrends, your nüvi 3790T automatically learns daytime trends for traffic flow to improve your routes and better predict your estimated time of arrival based on time of day and day of week.
Real Time Traffic


If your 3700 is a model with a T, (i.e. 3790T) then you get free traffic updates. You will have to put with an occasional small popup ad. The data is downloaded through the included power cord, picking up signals from FM broadcast stations which distribute the data. The traffic data is typically only found in metro areas. Also, unless the unit is connected to the cord, you won't get the data. I have found that leaving my cable constantly powered, allows me to get the updated traffic, as soon as I connect my 3790 by putting it into the mount. Below are screen shots of the traffic. If you click on the ads, you can get "special deals" with coupon codes, etc.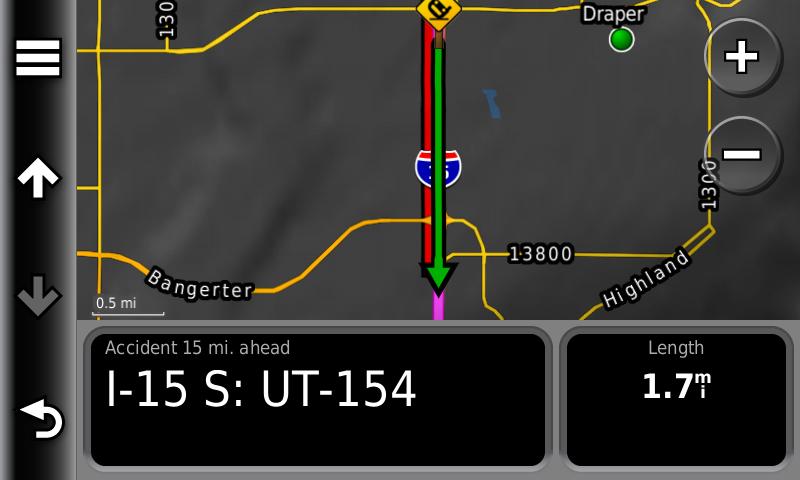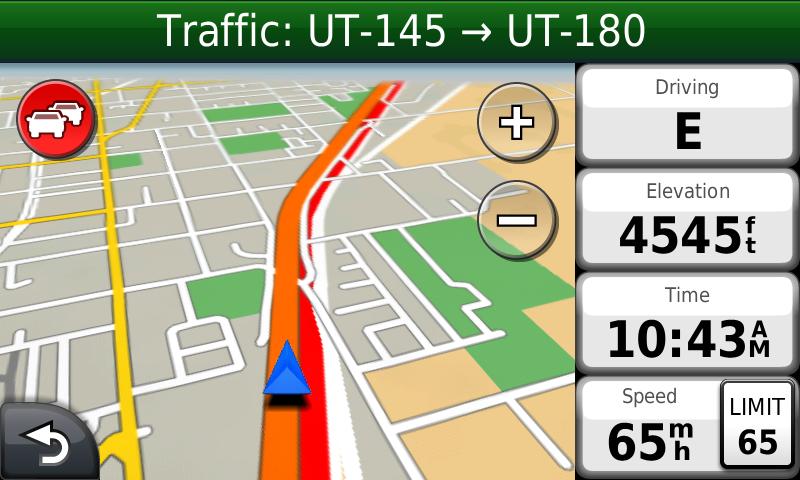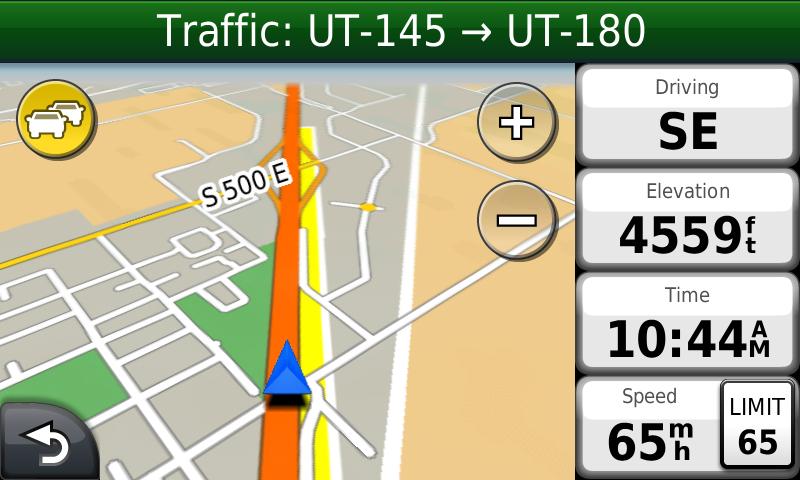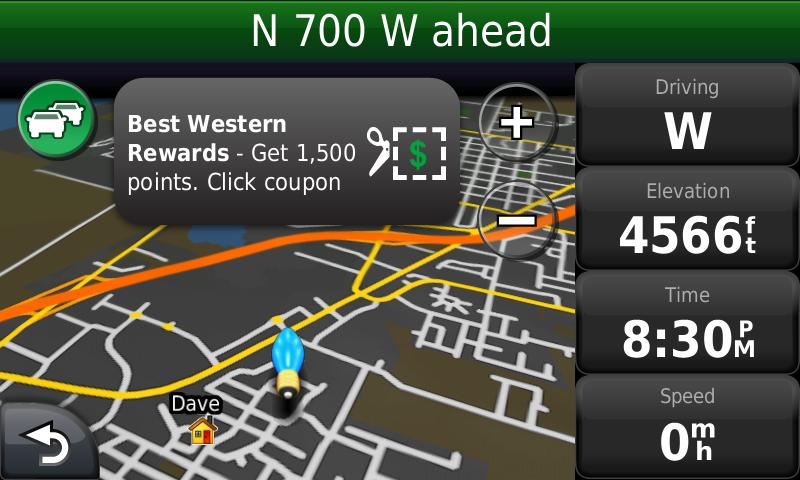 Junction View and Lane Assist


These are two very nice navigation features which have been available in Garmin units for the past year or so. Lane assist will come up when you are about two miles away from making an exit, or needing to get into a new lane where there is a freeway junction. In the upper left hand corner you will see several arrows. The ones which are highlighted are the ones you need to be in. I have found these to be accurate and very helpful, especially in heavy traffic. Lane assist is available in all areas. Junction view brings up an image to show you what your upcoming turn looks like. This is very nice, but not available in all areas, only high traffic areas in major cities. But if you are in unfamiliar territory, it will be a welcome feature to help you easily get through. Below are screen shots.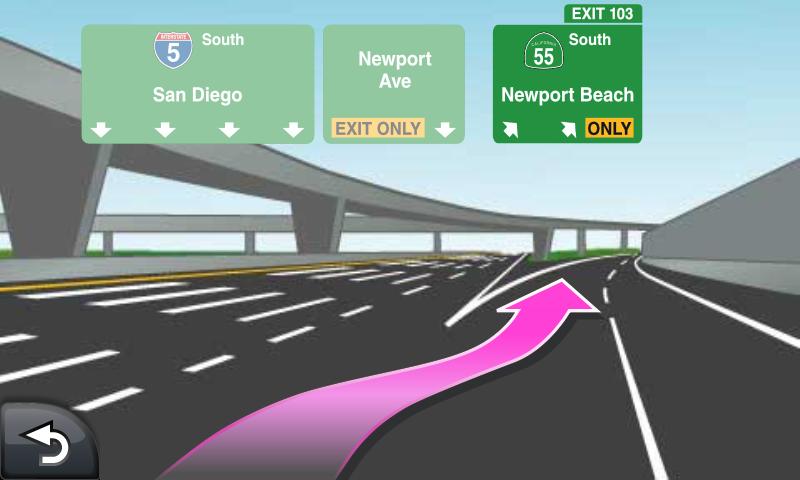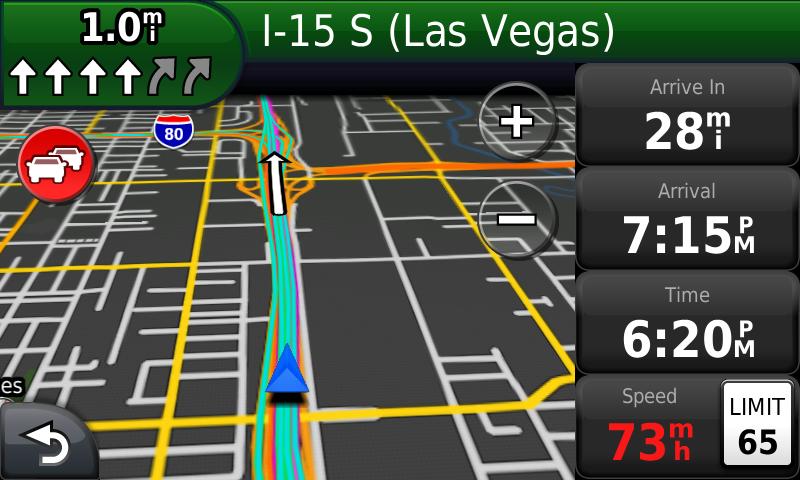 Junction View of upcoming turn and arrow showing lane to take This image shows I need to stay in the four left lanes to stay on track.
The aqua lines are my trip log. The red circle indicates traffic delays ahead


Lifetime Maps

The 3790 LMT comes with preloaded street maps of the USA, Canada AND Mexico.
If you bought the 3790 LMT, it means you get lifetime map updates, which are suppose to be released every 3-4 months. Don't be confused, this isn't for your lifetime or using a Garmin GPS, it is the life of the specific unit. If you didn't get the LMT version, you can buy a lifetime map update license for $90. These lifetime map updates however, have come down to what I now consider a reasonable price, after paying more than $100 for just one update in the past.
However, you are entitled to one free update, as long as you download the update with 60 days of first use.
Connect your unit to your computer and register it at garmin.com to be taken through the map update process. It is very easy now to do.

3-D Buildings
The 3700 series adds 3-D buildings to the map view. These are mostly realistic and look nice. They don't exactly help you get to your destination any better, but it helps to add some reality to your drive in a big city. They are only available in metro areas and usually only prominent buildings or landmarks are shown. In New York City, it does show buildings in gray, but only the familiar ones are in detail. Below are some examples from NYC, Las Vegas and Washington D.C.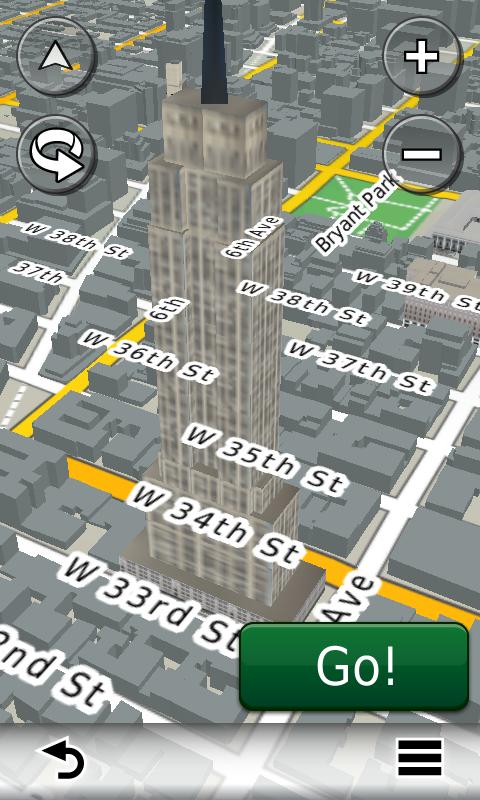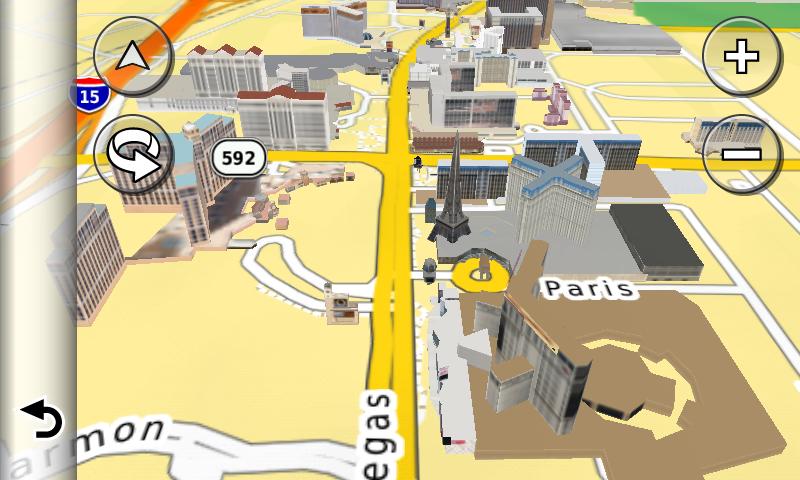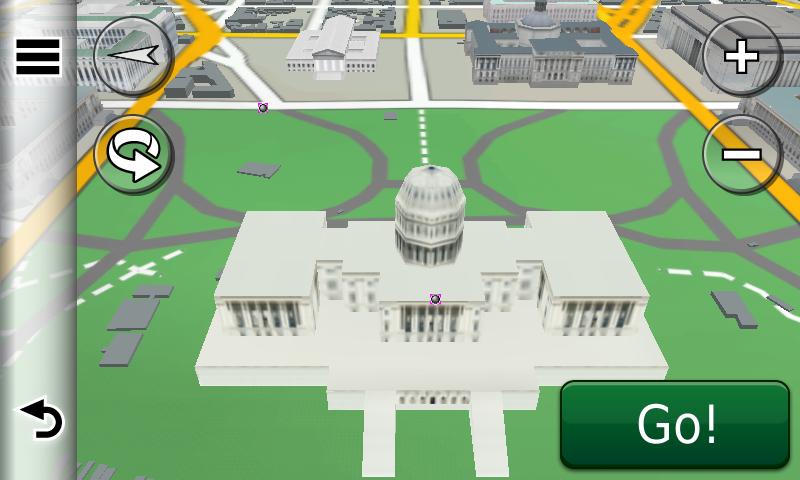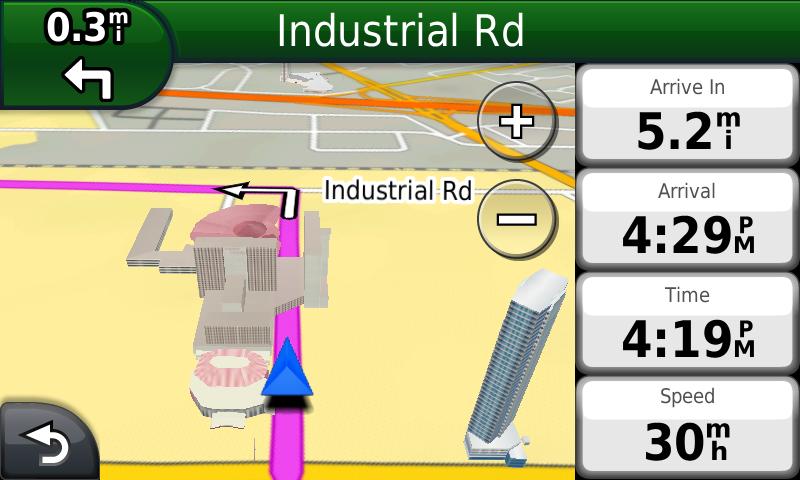 The 3-D maps also seems to incorporate a real aerial view in many sports stadiums and baseball parks. See below of Yankee Stadium.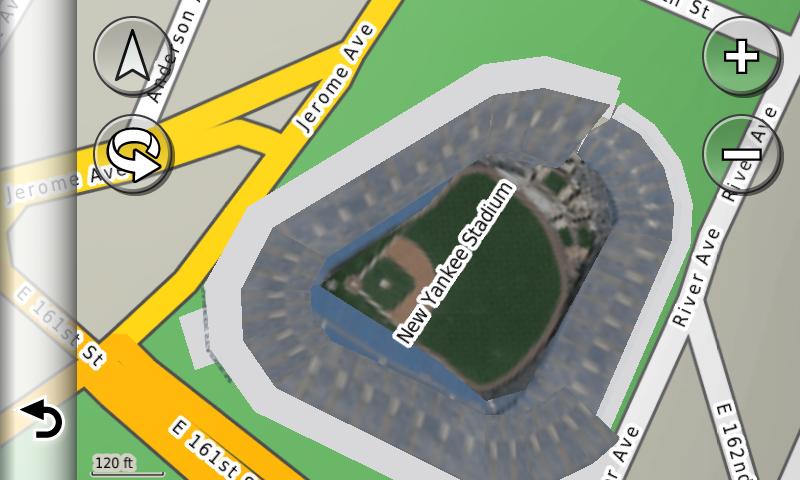 DEM Terrain


The 3-D terrain imaging is very good. If you are driving in mountains, you will get an appearance of the terrain. We can all hope this will find its way into Garmin's next generation of outdoor units, as the current 3-D view in the Oregon series isn't very good. I also loaded in Garmin's 24K TOPO maps and they look really good on the 3790. You can disable the DEM terrain if you choose to, in the map settings. Here are some examples below of the DEM terrain.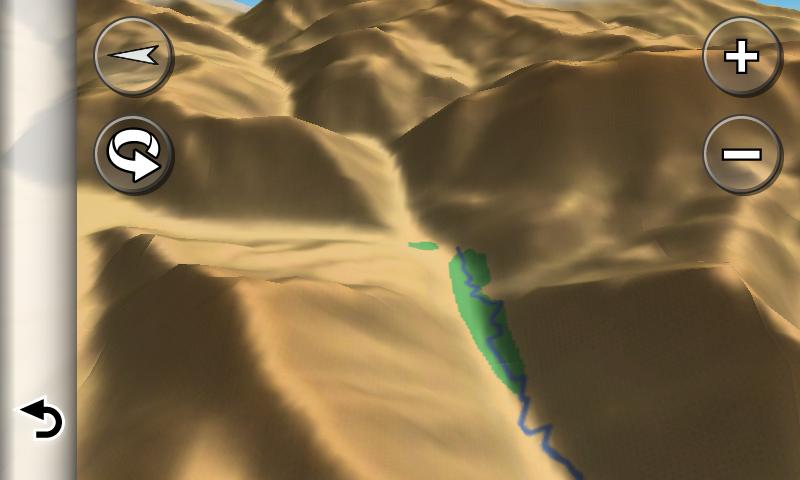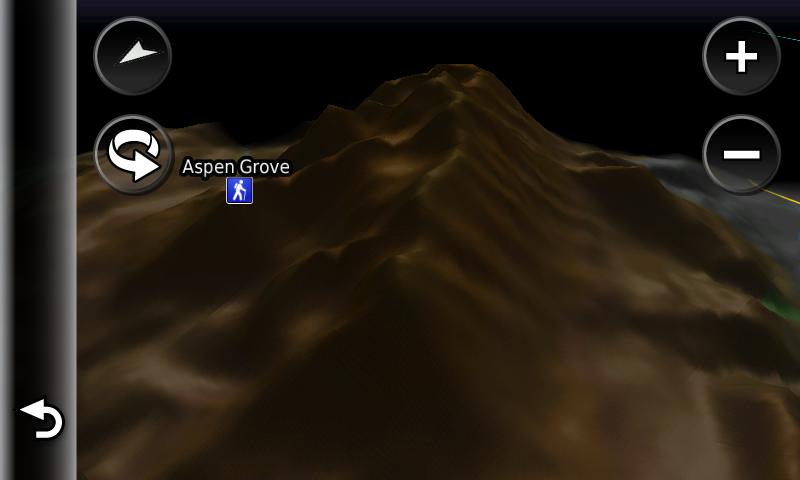 Shows mountain terrain and golf course in the bottom of canyon From night view. Shows waypoint along a major mountain range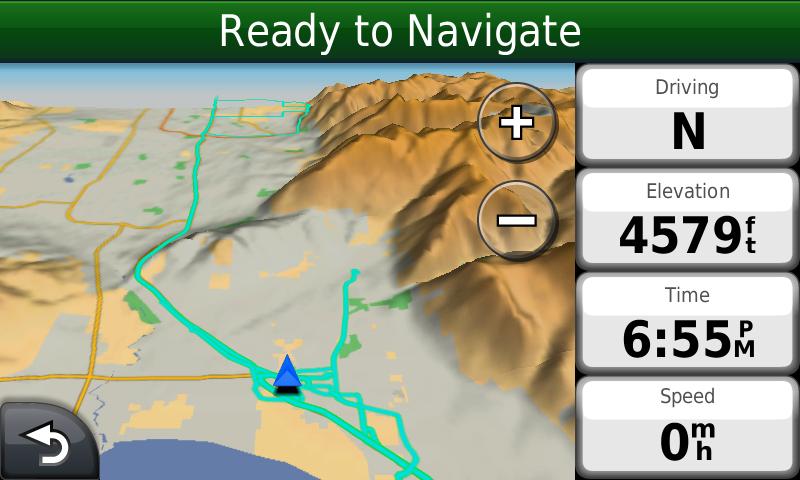 A wide view of the terrain. Aqua lines represent my trip log



Pedestrian Use


Out of all of the Garmin nuvi units, the 3790 is the best to use while walking in a big city. The size is a plus, along with the fact it will automatically switch between on a portrait or landscape view, depending on how you hold the unit. The pedestrian mode can easily be switched in the upper left hand corner of the Where To page. Switching to pedestrian will keep it from routing you on freeways, highways, etc. You can then get a route, distance, time, etc. Overall it is a very nice feature for getting around in an unfamiliar city on foot.
You have to purchase the City Xplorer maps if you want help using subways, public transit, etc. Each city runs you about $10. But if you are walking to your destination, the preloaded maps will help you get around just fine. Examples below.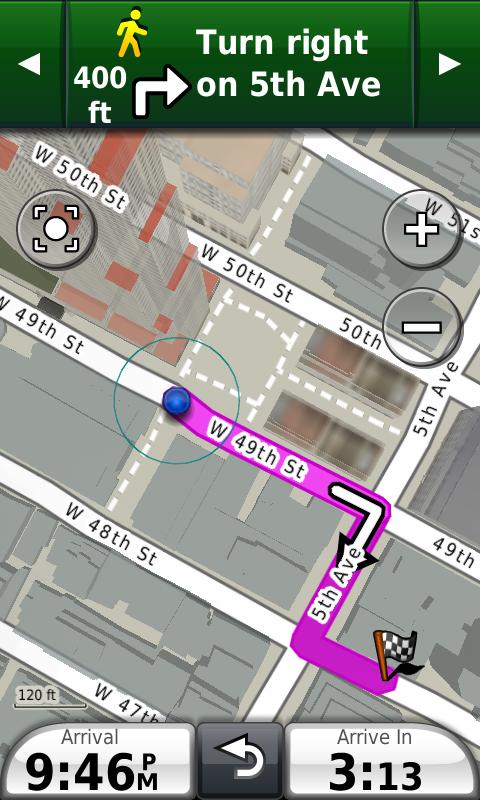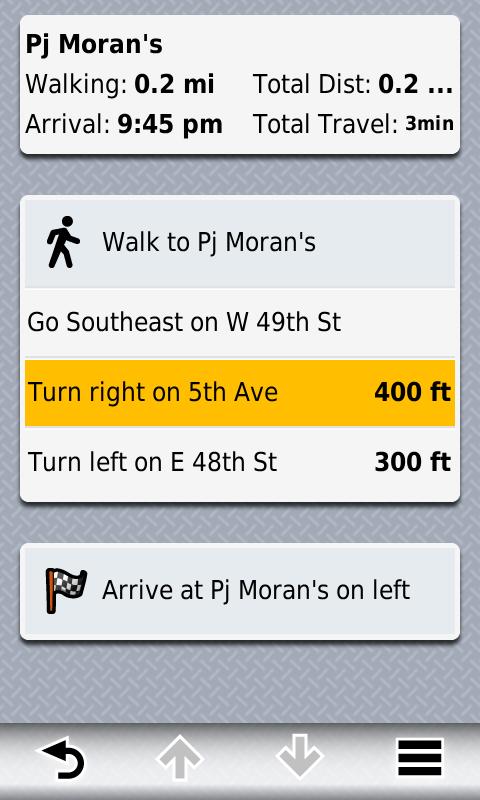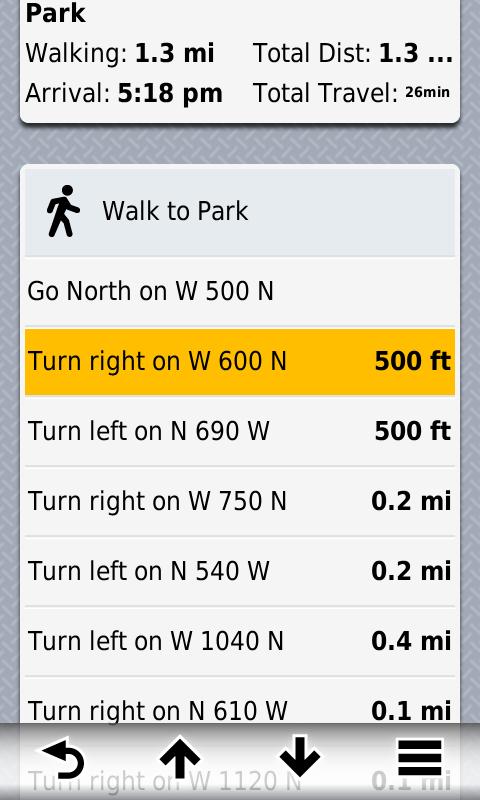 Example of a walk to a restaurant in NYC. Map page shows 3-D buildings, while route page shows you directions.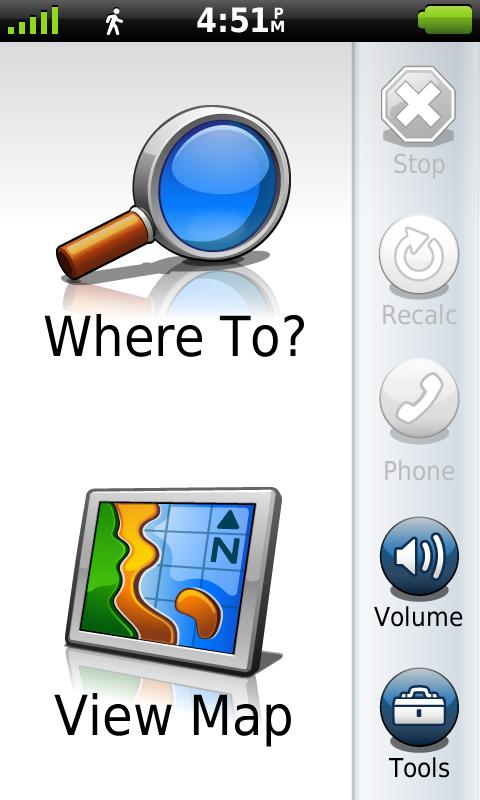 The main page adjusts to a vertical screen, which is helpful in pedestrian mode. Also note icon on the top left, shows a man, instead of a car in pedestrian mode, which will route you on streets and not on highways, freeways, etc.

Speed Limits
Garmin has posted speed limits on the map page in some of its latest units. You now get a red indicator, if your current speed exceeds the posted limit. While for the most part these limits are accurate, be advised some are wrong and so it is best to verify with the actual speed limit signs posted, as you travel.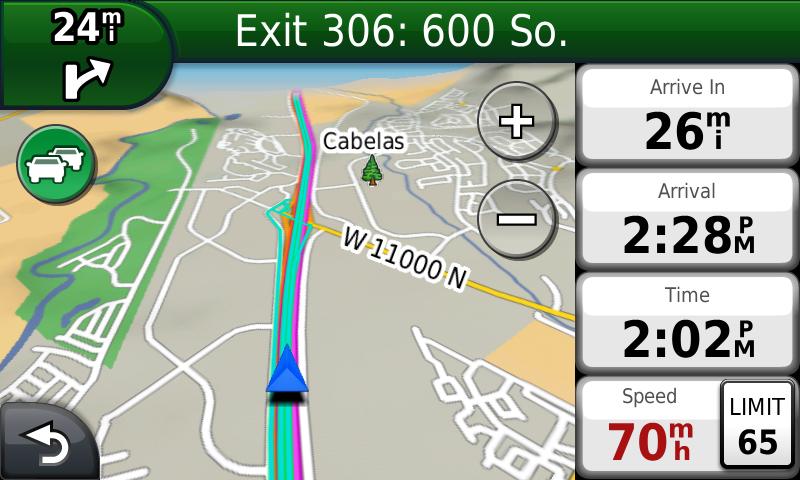 Voice Command
The 3790 has the ability to take voice commands from the user. Overall this is a nice feature and works well for me most of the time. I usually limit myself to inputting an address vocally, but when you are driving it is helpful. I sometimes feel like I have to yell or raise my voice at it, to get it to work. You can also adjust the volume, in addition to the searching options shown below. You can customize a "wake up phrase" so the unit will ask you for a command. The one limitation is that for waypoints in your favorites category, you can only select from the nearest, and it gives you four waypoints on a page at a time. It would be very nice if you could speak the name of the favorite. I don't use Voice Command everyday, but it is handy for me to input an address using the voice feature.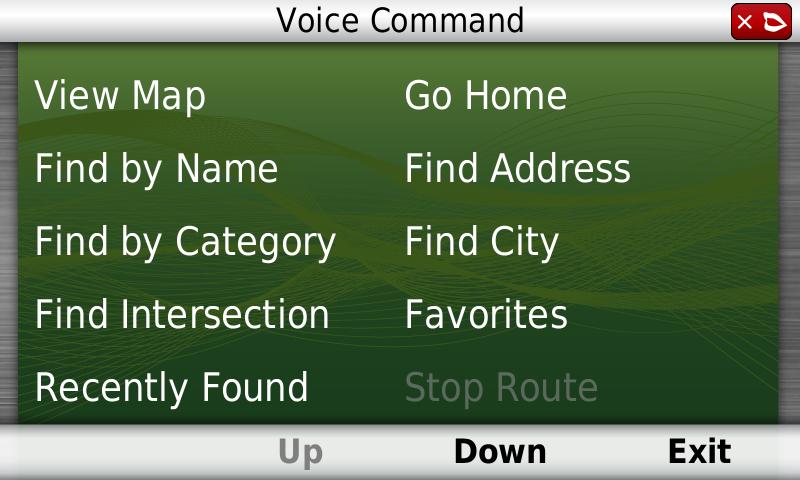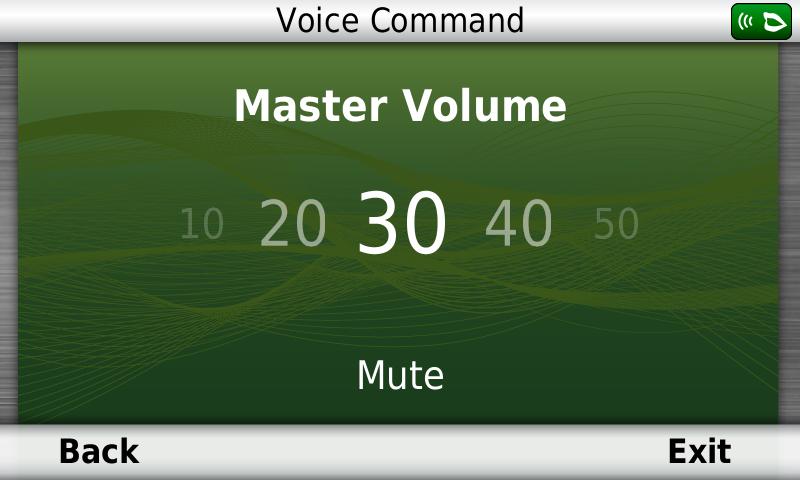 Touchscreen


The Touchscreen on the 3790 works very well and is very bright. It has a shiny, glass look, however it really attracts fingerprints. The good news is that when the unit is on, you can't see those fingerprints. The 3790 has what Garmin calls a multi touch interface. You can easily zoom in, out, etc, by using two fingers. Garmin has produced a good demonstration of these features, which you can watch on You Tube by clicking here. Overall, the resolution on the touchscreen looks beautiful.



World Clock


You can customize the world clock to find the time in three major cities around the world, in addition to your current location which is automatically shown. There is also a nice map of the world and you can see where the sun is shining and where it is dark at the moment.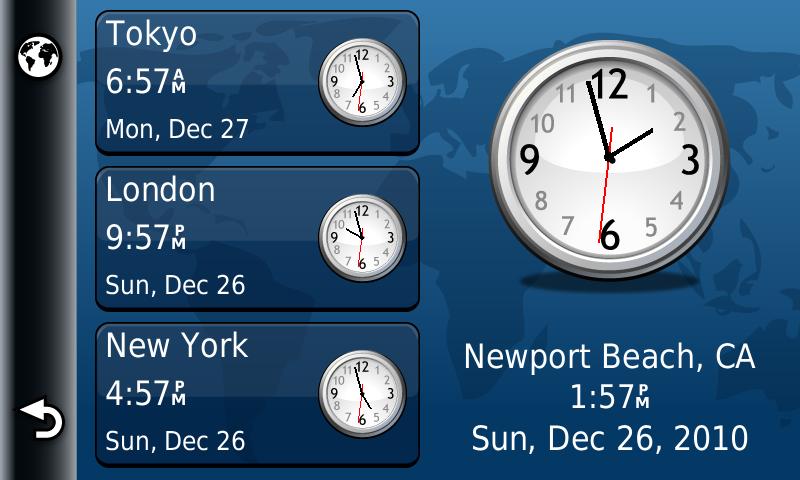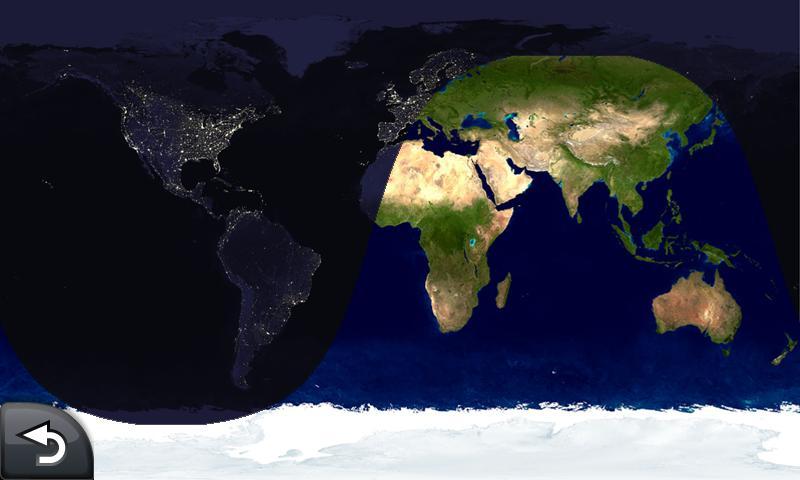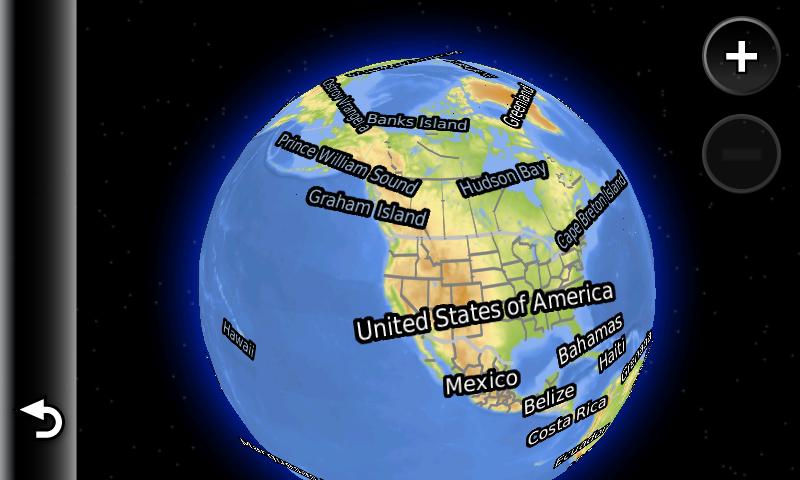 You can also zoom out the map, and turn around the globe, and then zoom back into anywhere in the world. There is a pretty decent basemap of the world also preloaded on the unit.



Alarm Clock


There is a built in alarm in the unit, which is easy to set and the unit will wake up from standby mode, to sound the alarm. A nice feature for when you are traveling.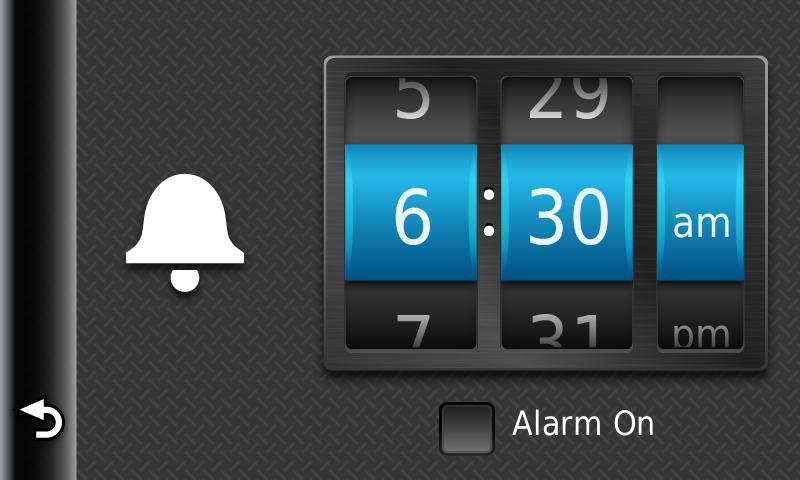 Help


I have seen the help option in the last few Garmin nuvi's, 13xx and 14xx series as well as the 37xx. Garmin deserves some praise for this. You can access many answers to common questions you may have about the unit. It is just as good as a paper manual and is actually quite helpful, not only to learn about your unit, but anytime you have a question. The help section includes several categories and sub categories. There is also the last position feature, which in this unit is found in the "parking" category. It will lead you back to your car in the parking lot, if you navigate to it.



Red Light Safety Cameras


The 3790 does have some red light safety camera warnings built in. Typically in the past you have had to subscribe and add these yourself as Custom POI's. It's unclear how complete this database is, but I can verify the red light camera shown below, does actually exist, as I have seen it in person.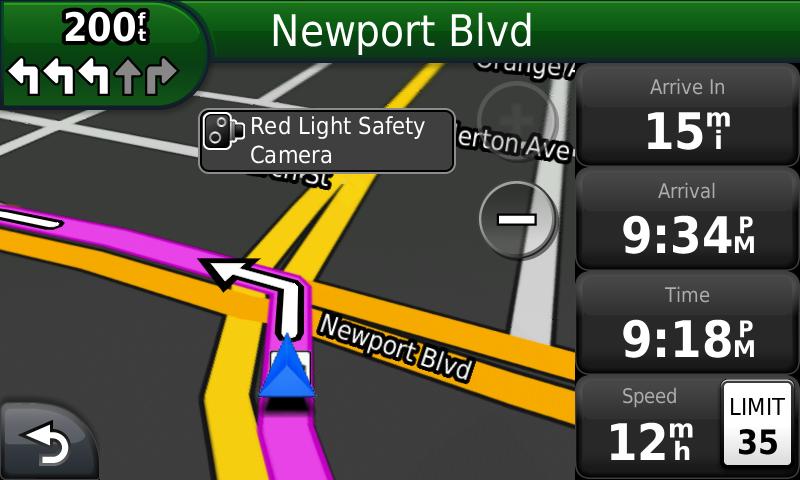 Glitches, Bugs, etc.


The biggest problem and complaint for me, is that the unit at times cannot redraw the map, as you are driving. I have tried to decide if this involves the traffic, extensive use without a power cycle or the 3-D terrain maps. I can't find any of them are involved through experimenting, but several times I have experienced the unit unable to keep up with redrawing the map as I am driving. I have also experienced the map page blinking. As of the latest Garmin firmware update, version 3.90, Garmin says it has improved map drawing. It appears the problem has been fixed, and it is another reason to make sure you have the latest firmware. Here are three screen shots demonstrating the problem of the map screen running on firmware version 3.60.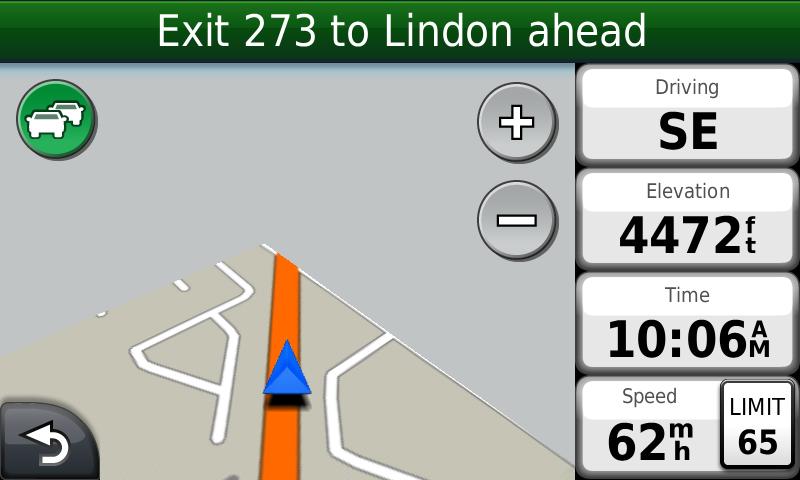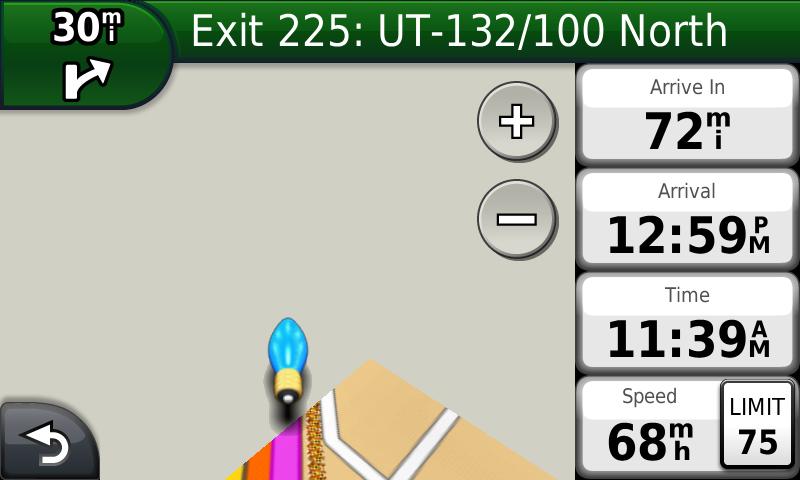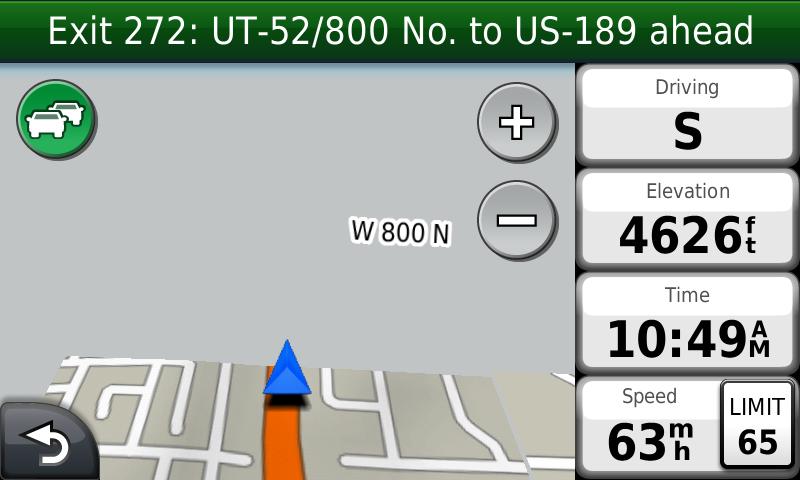 Other than the map drawing problem, I haven't had any other real issues. I have only had the unit freeze up on me once. Holding down the power button for 10-15 seconds restarted it.



Minor Routing Issues


The 3790 does have a problem at getting you off to a good start at times. Frequently, you will be calculated a bizarre route as you begin navigation, especially if you are moving at the time. In the case shown below, you can simply turn left and continue on as you should. I still can't tell if this is an issue with U-Turns in the Avoidances section of the menu or not, but it's annoying. I have NOT seen any other routing issues in more than 3600 miles driven with the 3790.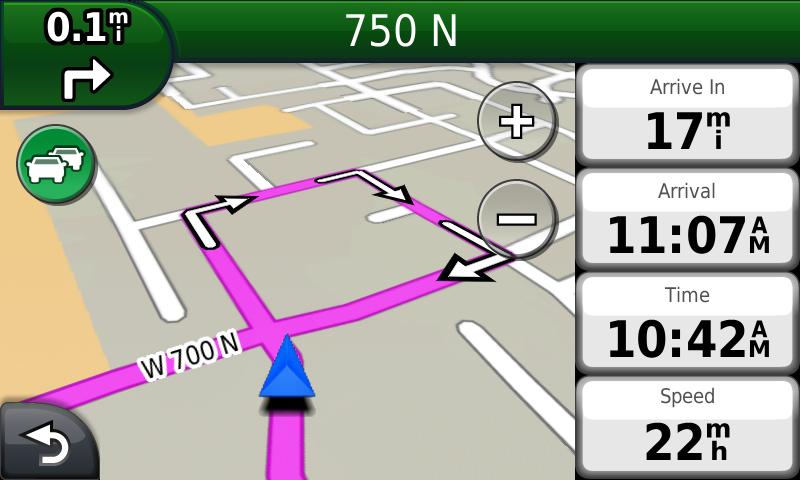 Satellite Page


A Satellite Page is available in the 3790. You can access it by holding the signal strength meter in the upper left hand corner of the main menu, but it takes some effort. In horizontal view mode, the Lat/Long does not display properly. (see longitude reading below) You can hold it vertically to get it right however.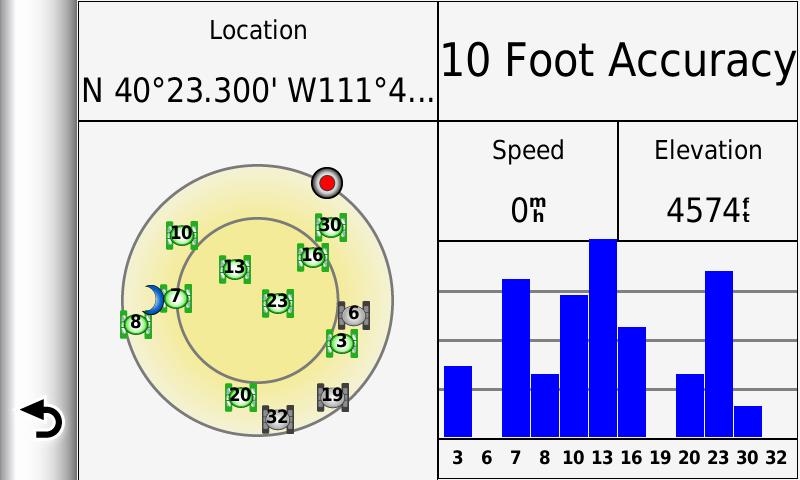 Trip Computer


The Trip Computer's look has been updated in the 3790. There are two separate trip odometers. It also has a second page of data available. You cannot customize any of this data however, which is a disappointment.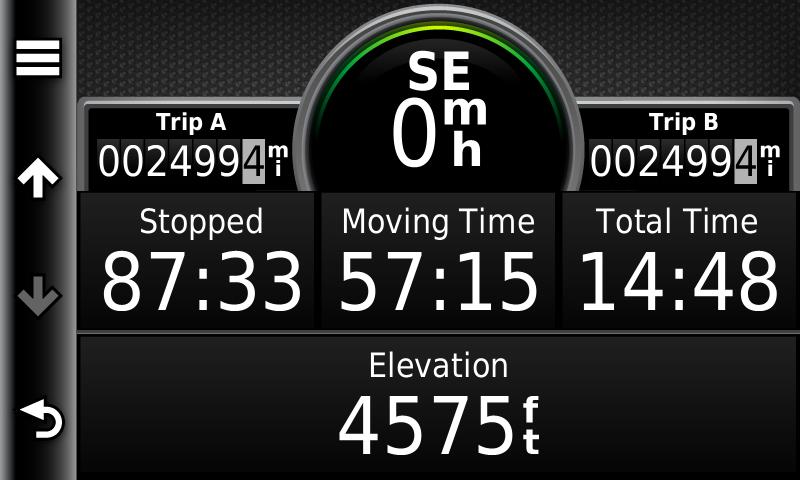 Bluetooth


The 3790 does have a bluetooth cell phone interface, for hands free calling. The unit easily paired with my HTC Droid phone and allows you to place calls and operates as a hands free system, while you are driving. I have tested it and found no problems. You can dial, store contacts, accept and end calls through the nuvi. Personally I prefer to just use my phone, as it seems more complicated/hazardous for me to run my phone through my GPS, and some have said it is harder to hear me on the other end. Individual users may disagree and find this to be a helpful feature.



Pros


Small and lightweight and easy to use while walking
Offers both a portrait and landscape view, which switches automatically, depending on how you hold it.
Good battery life, especially with standby mode
Quick and easy release from vehicle mount. Few nuvi models have this feature, which doesn't require a physical USB connection
Voice Command option is much improved from the 800 series and overall I am happy with it, especially speaking in an address
Built in speaker in the included mount, sounds very good.



Cons


Intermittent issues with redrawing of map (appears to be corrected as of 3.90 software update)
Power button can be unresponsive at times to shutdown (requires you to hold it for several seconds)
No preloaded POI's visible on map. You can only find, restaurants, stores, etc. by searching the POI menu.
Custom POI's icons not shown, only the gray dot. For also long as this feature has been in other Garmin units, this seems to be a major oversight.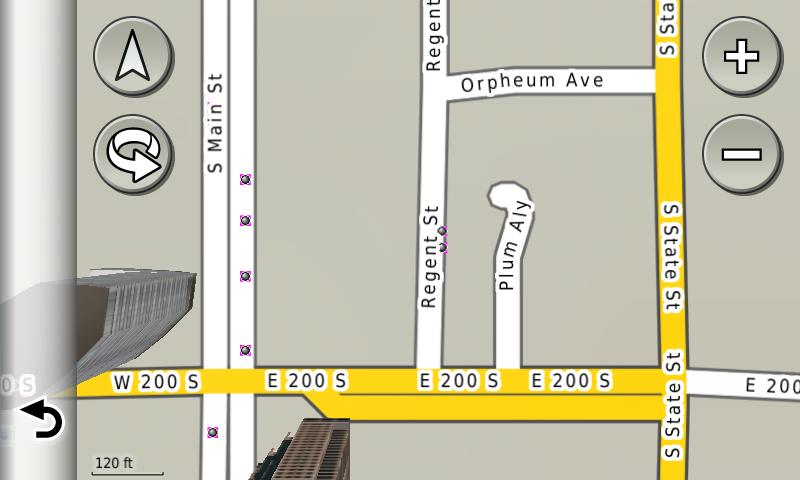 Custom POI's are not shown with their custom symbol, just the small gray dot with a pink outline.

Cannot turn off the beep when you touch the screen
Waypoints don't always show up on map-- inconsistencies with what is shown, depending on map scale
Cannot pan the map and then select a location to navigate to without going to "browse map" Then you have select a street, can't navigate to empty space on map.
Some features have been scaled back, (customize data fields)-- in apparent attempt by Garmin to simplify use for the average consumer
Satellite page is difficult to access-- pressing signal strength meter in upper left hand corner can take time to activate and is inconsistent
Cannot load your own geotagged photos-- (even those tagged with the Garmin 550) can only add photos from using Garmin Connect Photos (all nuvis affected by this)
Garmin has cut out features such as MP3 player, audio jack, etc. I liked having it built into my GPS. Now I have to have a separate MP3 for music.
I miss having XM radio built into my 2820. I realize the partnership between the companies didn't last, but I would have liked to have XM/Sirius in my nuvi
Is not compatible with some of Garmin's extra programs, such as MAD MAPS.
Carrying case is not included in package, but can be purchased for $20. It does help to protect your unit from scratches.


Summary



If you want Garmin's top of the line nuvi, then the 3790 is the unit for you. But if you want a good GPS navigator to get you where you are headed, then the Garmin 1390 or five inch screen 1490 may be what you want, and you will save a lot of money. The recently released 2X00 series is also an option, which has many of the same new features, (myTrends, trafficTrends) in a scaled back unit and price. As Garmin has done in the past, software updates typically get a brand new unit is running well within a few months. As of this writing, there are still a few minor fixes needed. You can look at the improvements made, by visiting the firmware update page here. I would also like to see more user flexibility in this high priced unit. To see the official product page click here. Here is a direct link to the online owner's manual.

Questions/Comments: Visit the gpsinformation.net
Forum
Return to:
gpsinformation.net